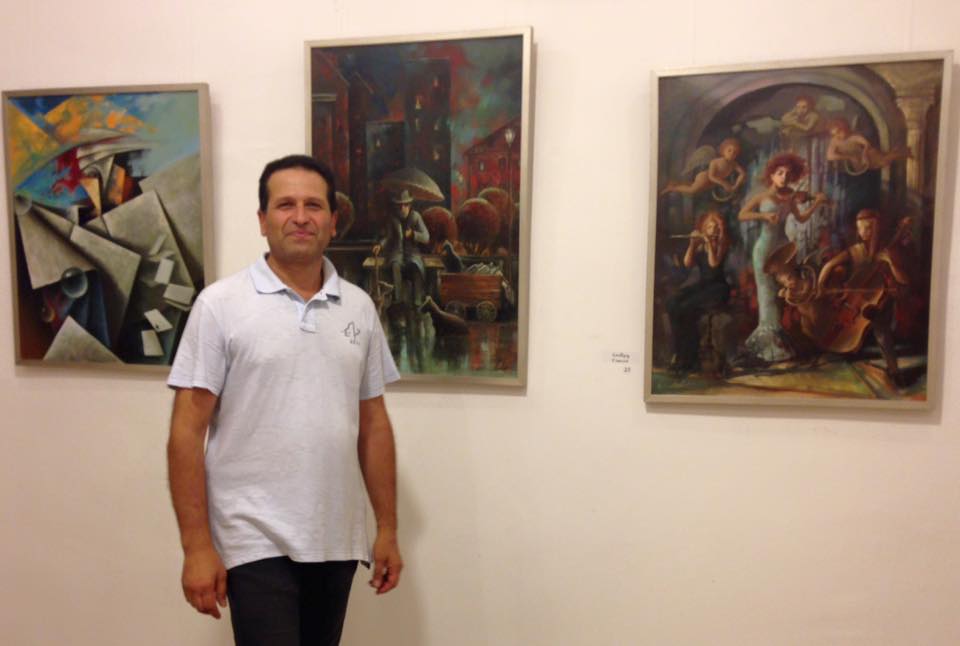 By Anush Titanyan
A great Armenian contemporary artist Ashot Azatyan predetermined his career path long before entering the professional sphere of arts. The love toward art was in Azatyan's genes, as his father was also fond of drawing: "Although he was self-taught, I remember how complicated and masterful his compositions were," states Azatyan.
Both during and after graduating from Terlemezyan State College of Fine Arts and State Academy of Fine Arts of Armenia, Azatyan was actively participating in various collective exhibitions. Already in 1987, his first personal exhibition took place in Rossiya Cinema, Yerevan, which predetermined a new stage in the artist's professional career. Later, Azatyan was part of both solo and collective exhibitions at the Central House of Painters and the International Federation of artists in Moscow.
As a child, Azatyan had many hobbies, such as music, sports, and reading. However, it was unquestionable that becoming a painter the greatest mission of his life. Painting for more than five decades does not prevent the painter from refining his skills. Azatyan states that he is going to aspire to perfection in drawing as long as he lives: "There are no limits in arts. As you age, you realize how many things there still are to learn."
When talking about his motivation, Azatyan says that he finds beauty in everything, let it be an empty bottle under the rays of the sun, a simple collage, or the view from the balcony. Azatyan was born and raised in an urban environment of Yerevan. However, he never ceased admiring nature by feeling himself an inseparable part of it. Thus, the painter's love for life plays a vivid role in his artworks. The artist states that Hrazdan Gorge is one of his favorite spots, which is also accessibility to visit and spend the whole day making sketches.
Azatyan says that there are thousands of ways to complete the painting. However, every artist has an opportunity to reveal their uniqueness due to the individual approach to it. The painter discloses that sometimes he wants to improve the painting and even erase the paint and start all over: "But sooner or later you should complete the painting, right?" – he adds with a smile.
Many artists were motivating Azatyan in different periods of his career, such as Bashinjaghyan, Surenyants, Vermeer, Rembrandt, and Picasso. The artist appreciates all of the artistic styles and techniques, simultaneously giving preference to realism in his work. The artist is sure that the basic academic knowledge is essential and adds, "Indeed, the spirit of a painting is significant, but no operas were composed without knowing the notes."
Now Azatyan loves spending days and nights in his studio and allocating all his time and efforts into making his art thrive. He is convinced that the success of an artist is when his paintings travel all over the world by making its views happy. For precisely this purpose, he finds online platforms essential, as contemporary Armenian artists have all the preconditions to present their works worldwide.