Description
Zvartnots, by Armen Daneghyan
The artwork is devoted to Zvartnots cathedral which is very famous among Armenians worldwide. The cathedral is represented in blue color in order to make the artwork more interesting. Cathedral special fragments are used, for example, "Khoyak" which is the upper part of the pillar. Armenian letter "Z" as the first letter of the cathedral's name, as well as various traditional Armenian elements were used.
---
About Armen Daneghyan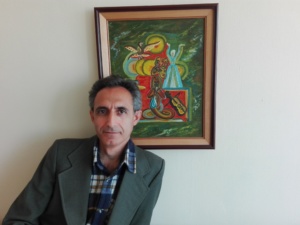 Born in 1967, Yerevan, Armenia. In 1984-1986 studied at the Miniature department of the Arts College. In 1990-1993 studied at the Academic Arts University (CAAU).
The artist has created a new branch and named it Modern Miniature. This can be considered as a new page in Armenian Modern Art. His artworks include different series, which are dedicated to religious, patriotic, philosophical and other modern issues. The miniature works of Armen Daneghyan are the continuation of Armenian magnificent Miniature of the Middle Ages.
Modern Miniature is a relatively new field in Armenian Visual Arts. Here Armen displays not only his professional principles and mastership, but also rich knowledge of religion and art. Having received appropriate education, the artist first of all had mastered the technique of Miniature, which is one of the main demands of the Miniature Art. After that Daneghyan had worked on different substances- mainly on wood and canvas. Paper is the main substance for the artist in the latest decade.
For Daneghyan, it is really important to mix the traditional and the modern styles. His art style has its unique place both in Armenian and global art.
---
Conditions:
Refund before delivery.
The artwork will be shipped without frame.